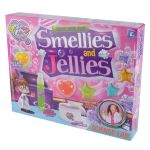 44-0094 GROOVY LABZ MAKE YOUR OWN SMELLIES AND JELLIES
CREATE ACCOUNT OR LOGIN TO SEE PRICING
Description
Product Code: 44-0094
Pcs per carton: 12
Features:
Groovy science experiments.
Make scented beauty and bath products.
Create scented water crystals.
Make rooms smell lovely and fresh.
Create smelly slime stars and scented bath hearts.
Make your own lip balm with favourite scents and flavours.
Make freezing lip balm markers.
Create a delicious-smelling deodoriser spray.
Comes with all the kit kids need.
Includes:
1 x plastic heart mould
1 x spatula
1 x super slime
1 x pack of crystals
1 x blueberry fragrance
1 x lavender fragrance
1 x cherry fragrance
1 x lip balm
2 x lip balm containers
1 x instruction sheet
Suitable for children aged 8+ years