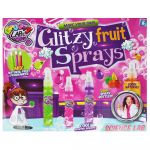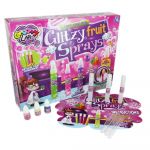 44-0096 GROOVY LABZ MAKE YOUR OWN GLITZY FRUIT SPRAYS
CREATE ACCOUNT OR LOGIN TO SEE PRICING
Description
Product Code: 44-0096
Pcs per carton: 12
Features:
Introduce girls to a world of groovy science with this fabulous kit.
Make sweet-smelling perfume using natural fruit juice
Mix naturals fruit sprays
Mix colours and fragrances
Use for everyday use
Blend fragrances
Invent your own body spray
Create beautiful fruity sprays
Learn to make deodorisers to freshen your bedroom (or laboratory) and smell as fresh as a daisy with your own citrus-scented body spray.
Includes:
3 x spray bottles
3 x colour fragrances
3 x test tubes
10 x tester papers and instructions
Suitable for over the age of 8 years.