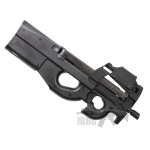 CA049P CA90 PDW AEG Gun
CREATE ACCOUNT OR LOGIN TO SEE PRICING
The Classic Army CA049P CA90 PDW AEG airsoft guns, battery and charger NOT included.
Description
This Classic Army version of the P90 is a beautiful rendition in 1 to 1 scale of a Modern Tactical PDW. The CA-90 weapon system is considered a Personal Defense Weapon (PDW), and is designed as a compact but powerful firearm for vehicle drivers, operators of crew-served weapons, support personnel, special operations and anti-terrorist units operating in Close Quarters Battle (CQB). It offers a compact and ergonomic frame, with good barrel length and adjustable red dot sights, An APS polymer body with 9mm bearing gearbox and red dot scope adds up to a very solid and fantastic feeling airsoft rifle that will impress from the moment you open the box.
The Classic Army CA90 series of airsoft rifles live up to the Classic Army reputation and come ready to withstand the abuse of the battlefield. With the CA90 body made of a High Strength Nylon Fiber and 300rd polymer, Magazine Will get the job done, swiftly and surprisingly almost silently as it is known as one of the quieter AEG's on the market.
FEATURES
Red Dot Sight
Metal Upper Receiver
9mm Bushing Gearbox With High-Performance Motor
Metal Hop-Up Chamber
Movable cocking handle and Easy Disassemble Body