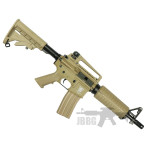 CM16 M4 Carbine Light DST GBB Airsoft Rifle (Copy)
CREATE ACCOUNT OR LOGIN TO SEE PRICING
This is the CM16 M4 carbine Light GBB Airsoft Gun from G&G…
Please note, this is an ex-display gun and is in full working order with no scratches or marks – the box is shop soiled and is not in mint condition.
Description
[grve_single_image image="55003″]
CM16 M4 Carbine Light DST GBB Airsoft Rifle
This is the CM16 M4 Gas Blowback airsoft rifle from G&G, this gun is the same as the Electric Combat Machine, but with a closed-bolt gas blowback system instead of a gearbox. Externally, the gun features the same high quality polymer receivers and hand guard as the electric Combat Machine line, as well as the adjustable LE stock, removable carry handle, and front and rear sling points. The CM16 CQB shoots right at 330 to 350 FPS, and features a 10inch barrel, making it perfect for close quarters games and fields.
Specifications:
Manufacturer: G&G
Model: M4 CQB GBBR
Muzzle Velocity: 300-320 FPS
Magazine Capacity: 30rds
Package Includes: Gun, Magazine
Features:
High-quality polymer receivers
Front and rear sling points
Blowback system
Adjustable LE stock