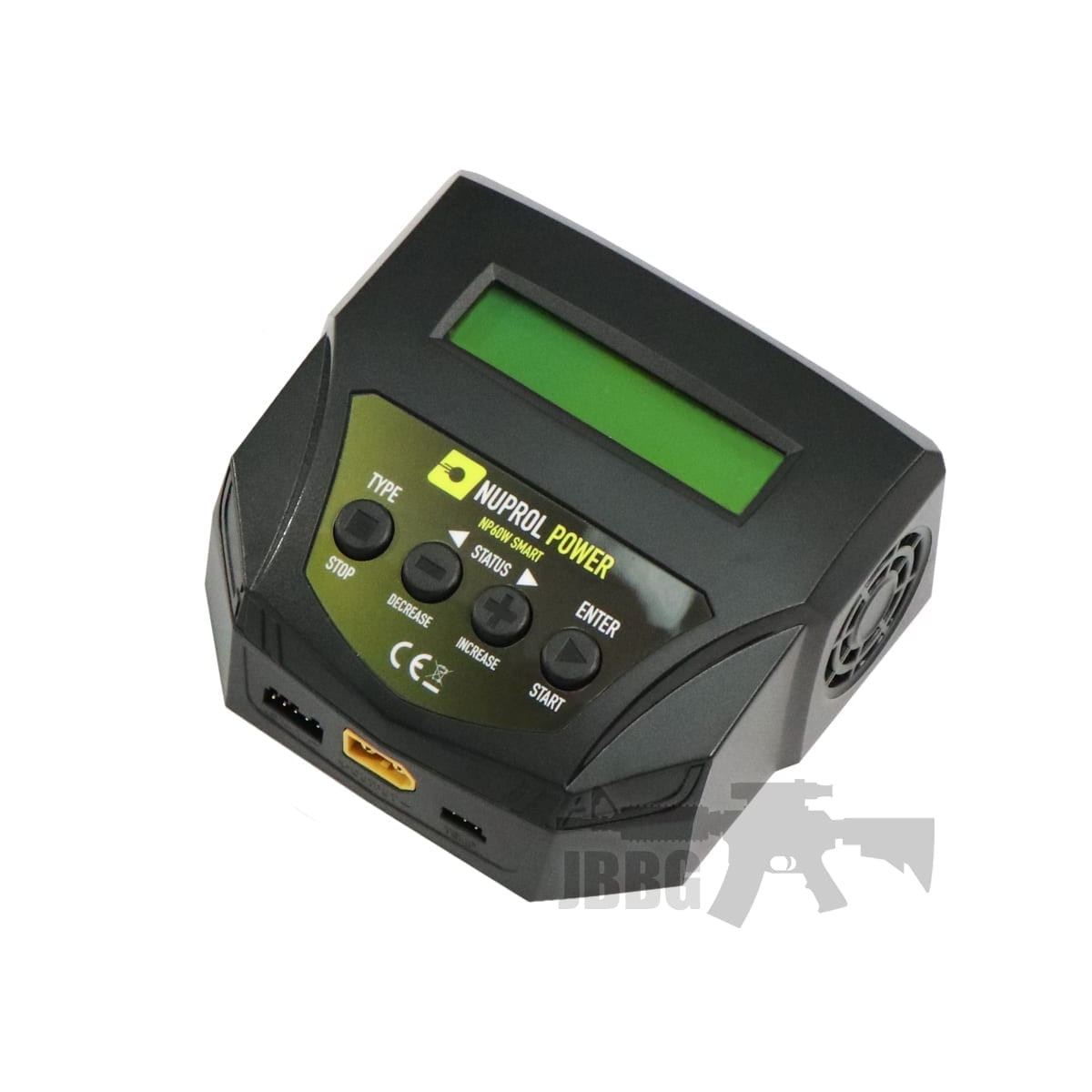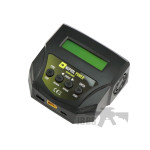 Nuprol 60W Smart charger
CREATE ACCOUNT OR LOGIN TO SEE PRICING
NUPROL 60W smart airsoft battery charger.
Description
This airsoft battery charger from Nuprol is a smart charger, meaning that the charger automatically charges and cuts off when the battery is full. This charger features an LCD display screen which allows you to configure the charger to your perfect settings, as well as see information about the battery as it charges and any errors which may occur. This outstanding charger has many high end features, with the ability to charge a wide range of batteries. This charger features an internal lithium battery balancer which allows the charger to detect individual cell voltage so there is no need to connect an external balancer before charging, and automatically stops balance charging each individual cell when they are full or if an abnormal cell voltage is detected. This charger has the ability to detect the delta-peaks of the battery whilst they are being charged, meaning that the charger will automatically stop once the battery is full, or the charge limit is exceeded for that battery type. A time limit can also be set to prevent the charger from infinitely charging.
This charger has an internal memory meaning that settings and options can be stored on the unit to save time entering information next time you come to charge your battery. Data for up to five battery can be stored inside the units internal memory and can be recalled easily without the use of any specialist program. This charger comes with a power plug to plug into any standard UK plug socket, along with charging cables to convert the XT60 charging output to Deans and mini-Tamiya, the two most common battery connector types. There is also a front port allowing the connection of balance cables for LiPo and LiFe battery which supports battery with up four cells plus another port for attaching temperature monitors which can be used as an extra level of safety which can be purchased separately.
Package Includes
60W Smart Charger
Plug Power Lead
XT60 to Deans Cable
Deans to Mini-Tamiya Adaptor
Features:
Nuprol 60W Charging battery
Charges LiPo/LiFe/LiHV/Li-Ion/NiMh/NiCd and Pb batteries
Charges almost every single battery type you'll require for Airsoft
Internal lithium battery balancer
Individual cell balancing and monitoring
Delta-peak sensitivity to protect the battery and charger
Automatic current charging limit
Capacity limiter
Optional temperature threshold detection
Charge time limiter
Input power monitoring
Data storage/load thanks to on-board memory
Cyclic charging and discharging
Allows the connection of batteries with an XT60, Deans or Mini-Tamiya connector
Supports LiPo, LiFe, and LiHv with up to 4 cells
Built in internal cooling fan
Internal power supply system with no need for an external power brick
Large, tactile and easy to use buttons
Visual LCD display screen
Supports 100-240 AC input
Charge power of 60W
Max discharge power of 10 watt
0.1A – 6.0A charge current range
Suppots PB battery betwen 6v – 12v
Detailed warning and error display