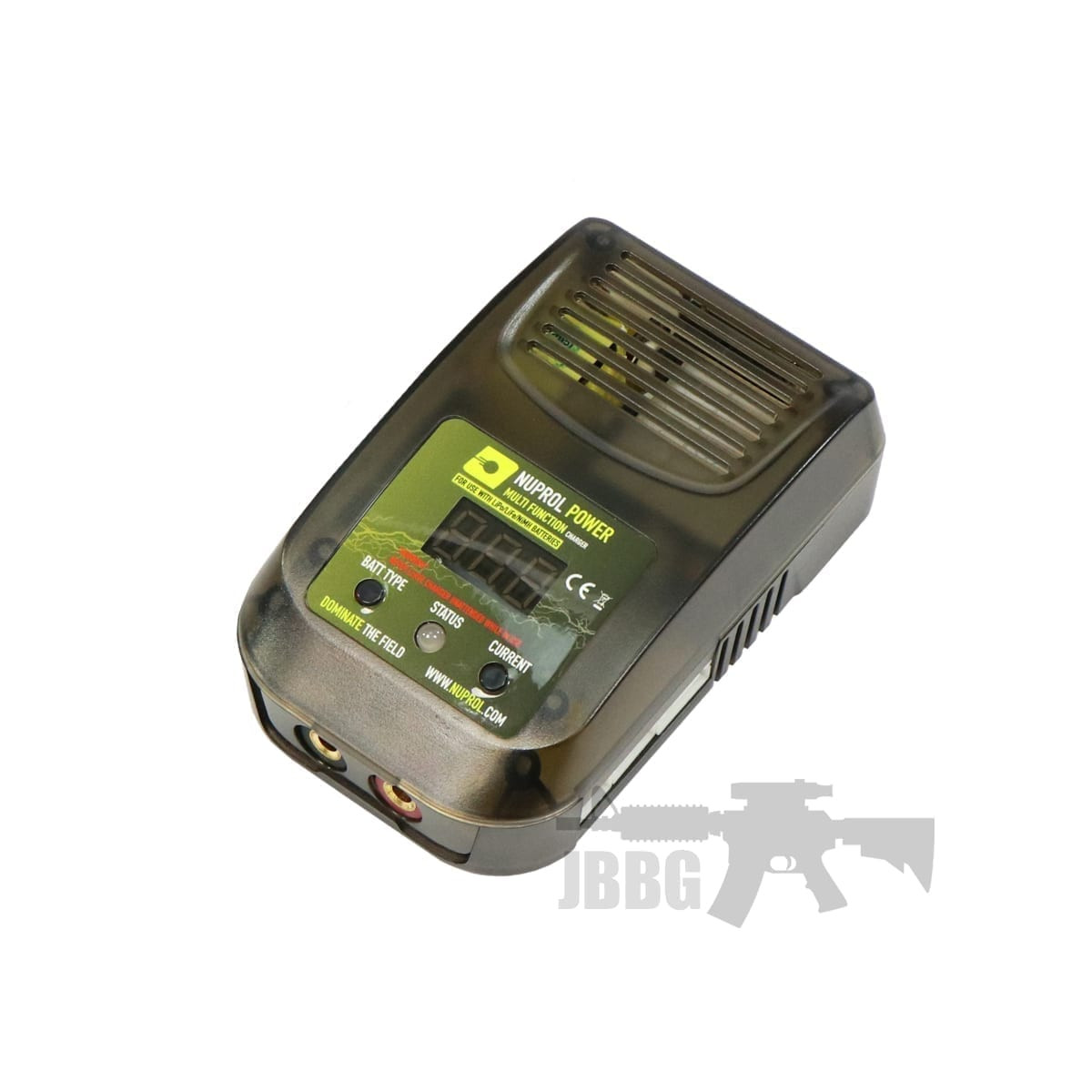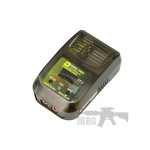 Nuprol Multi Function LiPo/LiFe/NiMH/NiCD Charger
CREATE ACCOUNT OR LOGIN TO SEE PRICING
NUPROL multi function LiPo/LiFe/NiMH/NiCD airsoft battery charger.
Description
This is the Nuprol Multi-Function smart charger, meaning that the charger automatically charges and then cuts off when the battery is full. The charger features a 3 LED display which displays to the user not only if the battery is charged, but if any problems have occurred during the charge. The charger is smart enough to detect any problems with the battery, such as short circuits from damaged wires as well as if the battery has too low of a voltage, and will deactivate itself to prevent any further damage. This charger is designed to work with standard UK plug sockets. The charger is complete with a 2 pin mains lead and a standard 3 pin UK plug lead.
This charger also features a LED 7 segment display which shows digitally what type of battery you're charging, as well as the amount of charge remaining. This charger is for standard LiPo and NiMh battery, as well as other rarer types such as LiFe and NiCd batteries. What this charger does is also charge Lithium High Voltage batteries, also known as LiHV, which are used in RC Cars and Vehicles. This means that if you're hobby cross you can use the one charger for both. The charger supports 2-4 cell LiPo, LiFe and LiHV batteries, and 4-8 cell NiMh and NiCd batteries.
Specification
AC Input 100-240V
Charge Current 0.5A/1A/1.5A/2A
Charge Current 2.5A/3A/3.5A/4A
Output Power 30W max
LiPo/LiFe/LiHv battery cell counts: 2-4s
NiMH/NiCd battery cell counts: 4-8s
Package Includes
Nuprol Multi Charger
Charging Harness to Deans
Deans to Mini-Tamiya Converter
Power Cable 2 Pin
Power Cable 3 Pin
Features:
NUPROL battery charger
Intelligent Auto-Stop charger
Charges almost every type of Airsoft battery
Charges Li-Po, Li-Fe, Li-Hv, Ni-MH and Ni-Cd Batteries
Smart charging system to detect problems safely
Stops charging when the battery is full
LED Text Display and LED info light
An internal power supply system
Comes with charging harness and connector adaptor
Can be used with LiPo data connectors for Balance Charge
Comes with Deans to Mini-Tamiya Converter
Adjustable AMP output setting
AMP adjustable to 0.5A – 4A in 0.5A increments
100v – 240v AC Input voltage
Outputs a max of 30W