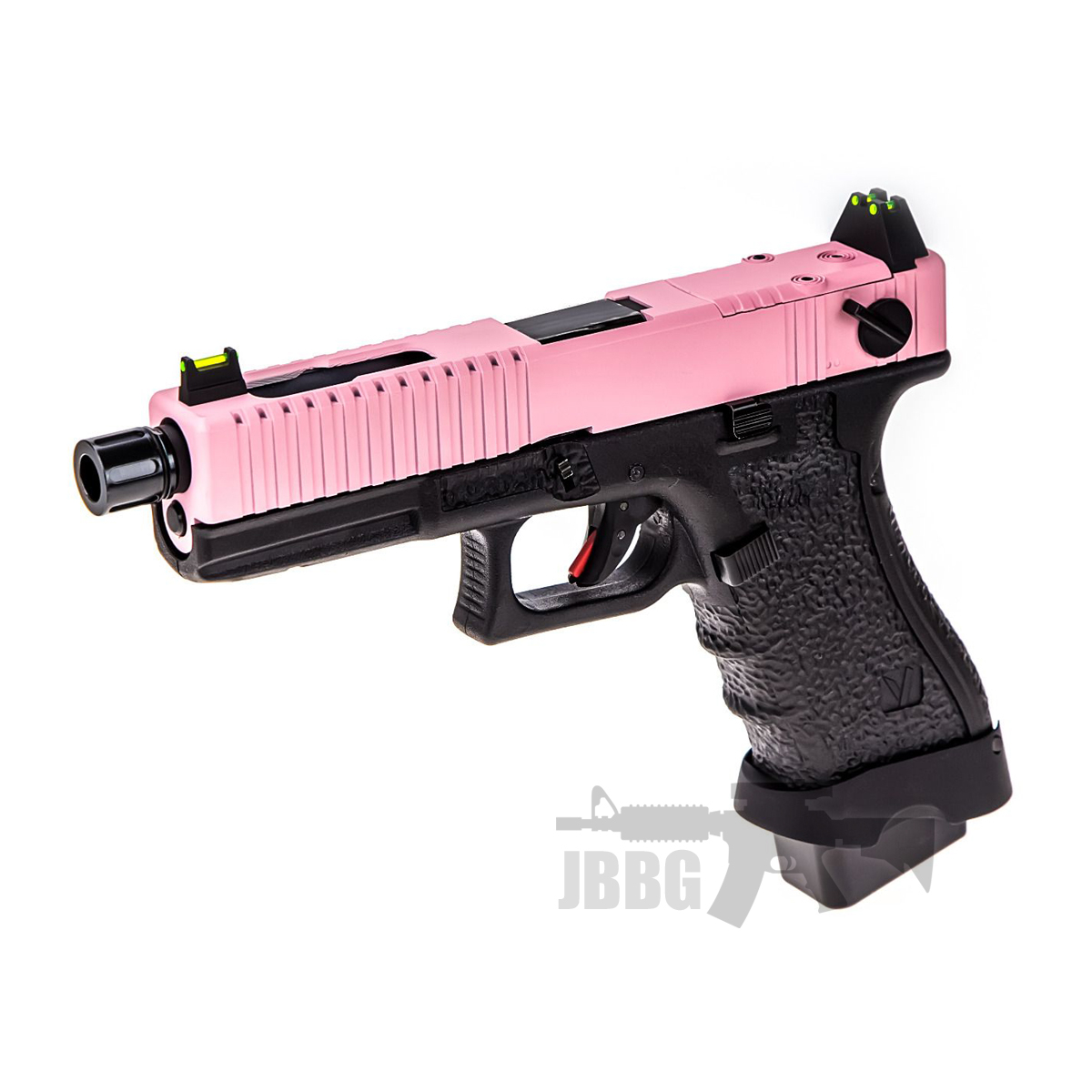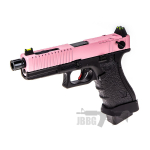 VORSK EU18 GBB AIRSOFT PISTOL
CREATE ACCOUNT OR LOGIN TO SEE PRICING
Description
VORSK AIRSOFT PISTOL FROM RAVEN
Constructed from metal Alloy and Polymer this pistol has been built with quality in mind. The pistol features a metal alloy slide, magazine and internals, with a polymer frame, trigger and internal parts. This VORSK's pistol provides a robust and dependable Gas Blowback Pistol, whilst also adding a touch of style. With high attention to detail on the CNC finished top slide to assure quality and precision.
This is a Gas Blowback Airsoft pistol which is powered by Green Gas and designed to fire standard 6mm BBs. It has a fully working safety front trigger lock which can be slid backwards to prevent the weapon from firing, as well as a two-stage safety trigger which will help prevent accidental discharge should the weapon be snagged.
The slide of the pistol is a highly customised version of the base slide from the pistol it was based on, featuring grooves not only on the rear of the pistol, but on the front too, these extra grooves make it easier to rack the pistol in a pinch, but also look cool too. The outer barrel is twirled which makes it stand out from other airsoft pistols.
This pistol is perfect for those Airsoft skirmishers who are looking for an amazing pistol which not only looks very cool but performs just as well. These pistols are great for both beginner and seasoned players who are looking for a sleek and stylish sidearm.
IN THE BOX
Gas Blowback Pistol
Magazine
Spare Nozzle
Spare O-Ring Set
Replacement Iron sight Set
Tool Set
Instruction Manual
Exploded View Card
Vorsk Patch
FEATURES
Custom Slide, Outer Barrel and Frame
Grooved slide for style and to make cocking the replica much easier
Custom textured frame for extra hold in wet conditions
CNC finished slide
Light enhancing raised iron-sights
Extended magazine base plate
Compatible with green gas and Co2 magazines
Trigger lock safety system
Red dot / Dr sight mount point
Front Pistol Rail for attaching pistol torches and lasers
Two-stage safety trigger
Extended Gen4 style magazine release
Slide locks back when the magazine is empty
Flared magazine well to make it easier to insert magazine
Adjustable hop-up unit for range and accuracy
Female threaded outer barrel for attaching suppressors
Comes with a Female to Males suppressor thread adaptor
Replaceable back straps to adjust the grip size
Thread protector included
90mm 6.03mm Brass precision inner barrel
Spare nozzle included
Spare O-Ring set included
Original low profile iron-sight pare included