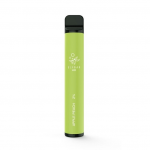 Apple Peach 2ml – 0mg PACK Of 10
CREATE ACCOUNT OR LOGIN TO SEE PRICING
Description
Giving you great flavour, impressive convenience and plenty of puffs, the Elf Bar 600 would be an excellent choice.
Boasting a 550mAh battery and loaded with 2ml of e liquid, this disposable vape pen delivers up to 600 satisfying puffs. There are no buttons or settings to deal with as the device is inhale activated. Simply vape until you have exhausted the juice or the battery and then dispose of the pen. You won't have to worry about changing your coils or topping up and you can work your way through a variety of flavours.
This compact vape pen is highly portable and is ideal for new vapers. It would also be a good choice for experienced vapers seeking a back up device or something to take out and about. This Elf bar 600 is loaded with Apple Peach e liquid which boasts a refreshing fruity blend that gives you a wonderful balance of indulgent and sharper notes. The juice features salt nicotine which means smoother throat hits and speedy relief of your cravings. Perfect for recently reformed smokers, the nicotine strength is 20mg. Give the Elf Bar Apple Peach Disposable Vape Pen a try!
• 550mAh battery
• Powers 600 puffs
• 2ml of e liquid
• Delicious fruit flavour
• Salt nicotine
• Nicotine strength of 20mg or nicotine free
• Compact disposable device