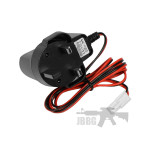 BULLDOG BATTERY CHARGER
CREATE ACCOUNT OR LOGIN TO SEE PRICING
NEW BULLDOG AIRSOFT Battery Charger at JBBG…
Description
Universal Smart Charger for any NiMH / NiCD battery pack 6V-12V (5-10 cell pack). 100-240V AC input for worldwide voltage support. Ideal for charging all 6V, 7.2V, 8.4V, 9.6V, 10.8V and 12V Airsoft battery packs. Using Pulse and negative pulse technology (10% negative pulls) to avoid battery overheating and polarised during fast charging, significantly increasing battery pack's life cycle. Automatically detect battery pack's voltage and automatically cuts off by negative delta V when the battery pack is fully charged.
This BULLDOG AIRSOFT universal smart charger has been designed to charge your battery pack fast and safely. Unlike most other Airsoft chargers this one will automatically stop charging the battery pack when it is fully charged. This extends the life of the battery and prevents any danger.
COMPATIBLE WITH ALL AIRSOFT BATTERIES!
Please confirm battery compatibility before charging.
The charger is a 3 pin plug type and has a small Tamiya connector that will fit most airsoft batteries. Do not leave the battery unattended when charging and do not charge on a wooden surface or carpet. Never let the battery get hot when charging, unplug the battery from the charger immediately. When the charging is finished unplug the battery and switch off the charger as soon as possible.