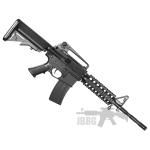 BULLDOG SR4PG AIRSOFT GUN
CREATE ACCOUNT OR LOGIN TO SEE PRICING
The SRC BULLDOG Professional Grade Airsoft Rifle is quite possibly the greatest value in the airsoft market today. This game changer is loaded with tons of upgrades such as a reinforced SRC gearbox and adjustable hop-up. SPORTLINE Airsoft rifles are designed for skirmishing, they are light, made of plastic and deliver outstanding performance. With outstanding internals and light plastic body, this gun easy to carry all day at your next event. This outstanding airsoft rifle has a reinforced SRC gearbox for increased performance and durability, semi and fully automatic shooting modes, adjustable hop-up for increased distance and accuracy and TG pistol grip with an advanced trigger guard.
Description
BULLDOG SR4PG AIRSOFT GUN
PCS. PER CARTON – 3
SPECIFICATIONS:-
FPS(ESTIMATED) – 330
POWER TYPE – ELECTRIC
HOP-UP – ADJUSTABLE
CONSTRUCTION – METAL/ABS
RECOMMENDED AMMO – 0.20G
BLOWBACK –
ROUNDS –
IN THE BOX
Bulldog M4PG AEG Gun
70 Round Magazine
Detachable Rear Sight
Unblocking/Cleaning Rod
Add accessories to create the perfect loadout!