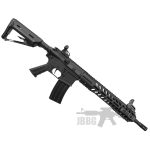 BULLDOG ST M4 DIAMONDBACK AIRSOFT GUN
CREATE ACCOUNT OR LOGIN TO SEE PRICING
Description
BULLDOG ST DIAMONDBACK GUN
This is the BULLDOG ST DIAMONDBACK electric airsoft gun, an outstanding AEG that has many great features not found on an airsoft rifle at this price. This AEG (electric gun) has a high-quality motor and internal parts, metal bushings, adjustable hop-up for greater accuracy, Nylon receiver to reduce the weight and deliver a custom moulded grip, high-end steel gear set. This is a Sportline ST Series airsoft gun from BULLDOG that will NOT disappoint. It has an adjustable stock, nylon fibre receiver and handguard. The front and rear sights can be used down or up for added accuracy, with quality internals that deliver an outstanding rate of fire and a standard skirmish FPS of 330 .
KEY FEATURES
This outstanding Bulldog ST AEG has the latest features that make this one of the best airsoft guns for the money. A sportline gun that features an SRC 300 round high-cap magazine plus a smooth selector switch to change from safety to semi-auto and full-auto firing. It has a metal barrel and the SRC Hop-Up system. Other outstanding features include an adjustable tactical stock and quality detachable sights to enable installation of almost any red dot sight or scope.
HOP-UP
Hop-up devices apply backspin to the projectile reducing the air pressure on its top side. This causes the plastic pellet to fall less over a given distance than it would without the spin applied, extending the effective range of the weapon without increasing velocity.
SPECIFICATIONS
| | |
| --- | --- |
| FPS | 330 |
| POWER TYPE | ELECTRIC (2 STICK TYPE) |
| ROUNDS | 300 |
| HOP-UP | ADJUSTABLE |
| CONSTRUCTION | POLYMER |
| 1:1 SCALE | YES |
| WEIGHT | 2725G |
| LENGTH | 820/900 (MM) |
| WITH MAGAZINE | YES |
| MOTOR TYPE | LONG AXLE |
| WITH CHARGER | NO |
| WITH BATTERY | NO |
IN THE BOX
Bulldog ST Diamondback Airsoft Gun
300 Round Magazine
Detachable Sights
Unblocking/Cleaning Rod
Tactical Rail Set and Fixings
Instruction Manual