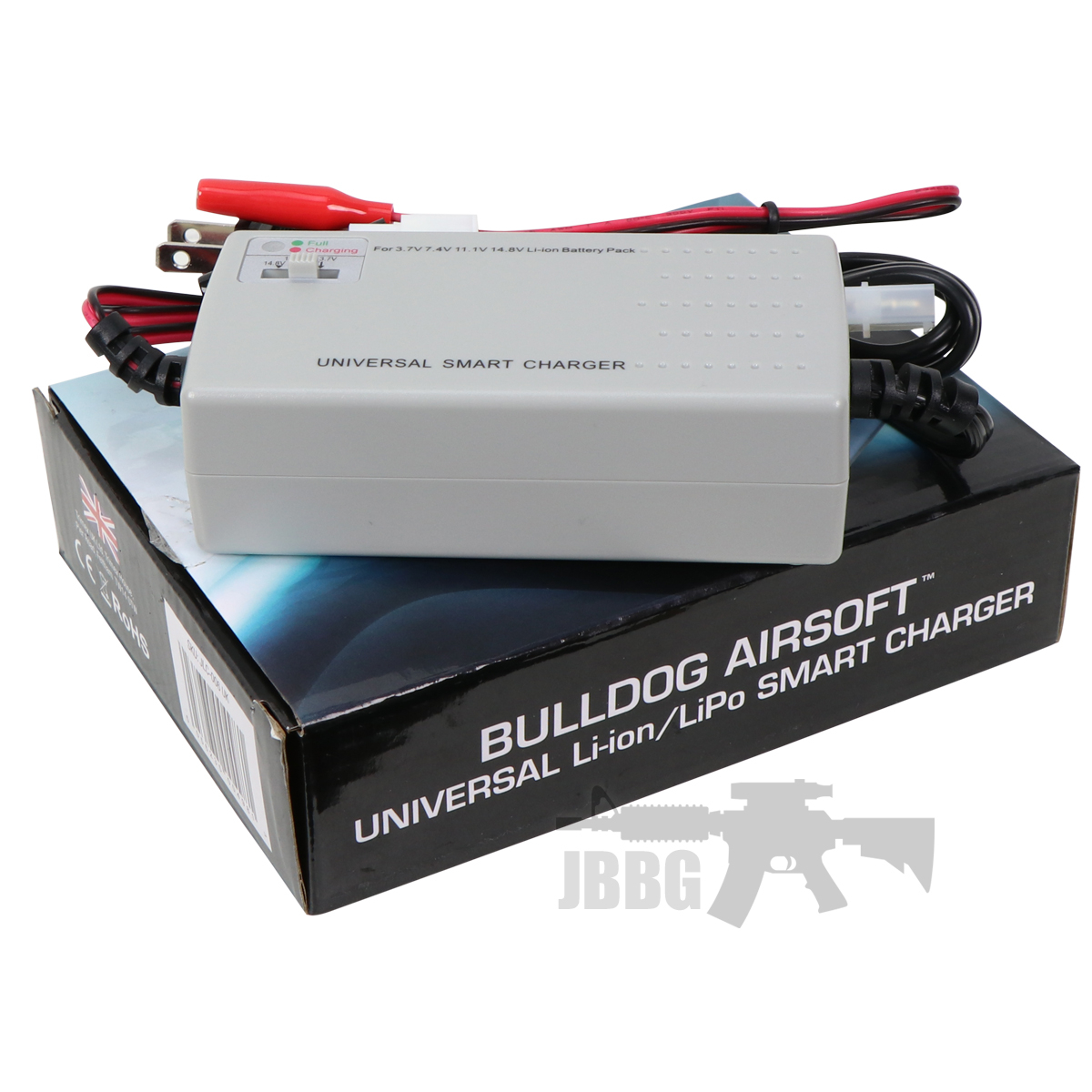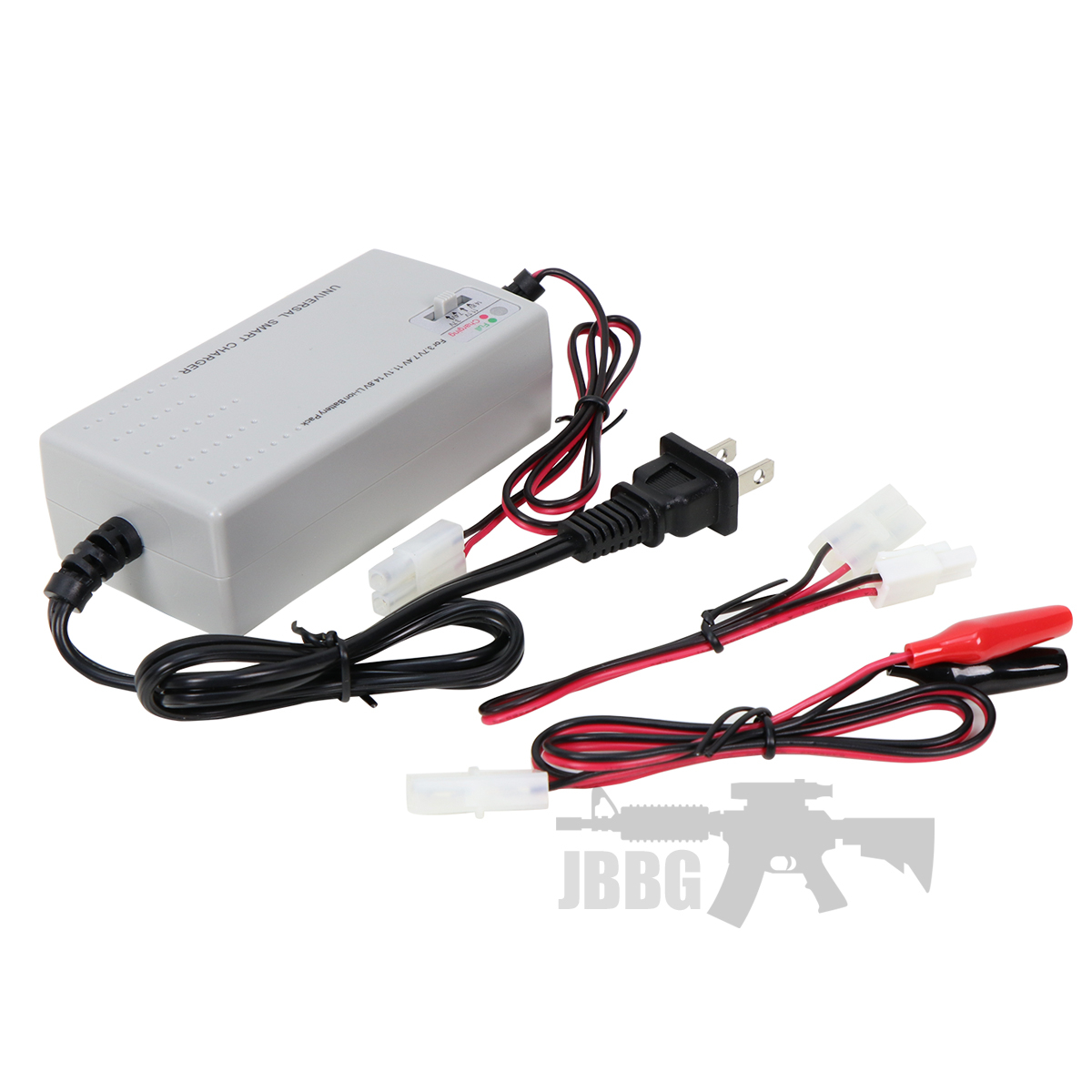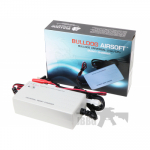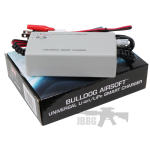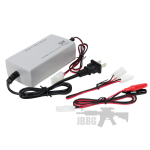 BULLDOG UNIVERSAL LI-PO CHARGER
CREATE ACCOUNT OR LOGIN TO SEE PRICING
Description
BULLDOG UNIVERSAL Li-ion/Li-po SMART CHARGER
Please note – this charger has a 2 pin USA plug, so will require a UK plug adapter.
This is the Bulldog Universal Li-Po Charger, an easy compact balance charger for Li-Po airsoft battery.

This outstanding Bulldog LiPo charger has a USA 2 pin wall plug. However, at Just BB Guns we are now including a 3 pin UK fused wall adapter FREE.
FEATURES
Smart universal charger for Li-Ion and Li-Polymer battery pack with capacity > 500 mAh.
Four voltage selections at 3.7 v, 7.4 v, 11.1 v and 14.8 v.
Universal 100 v – 240 v AC input for worldwide power usage.
500 mA constant charging current.
Automatic charging stop when the battery pack is fully charged, or when each cell's voltage reaches 4.2 v.
With Tamiya connector.
SPECIFICATIONS
Input voltage: 100VAC-240VAC 50HZ-60HZ;
Rating input current: 250 mA
Full-load power: 12 W
Battery type and specification: 1~4S Li-Ion/Po battery
Charging current: 500 mA
Charging voltage: 2.5~16.8 v
Weight: Approx. 370 g
Dimension: 119 * 60 * 37 mm
OPERATING INSTRUCTIONS
This is an easy-to-use charger, just connect the battery to the charger, making sure that the polarity is connected in the right way;
Select right voltage level for your pack:
For 3.6/3.7 v 1-cell pack, set switch button 3.7 position on the charger.
For 7.2/7.4 v 2-cell pack, set switch button 7.4 position on the charger.
For 10.8/11.1 v 3-cell pack, set switch button 11.1 position on the charger.
For 14.4/14.8 v 4-cell pack, set switch button 14.8 position on the charger.
Then connect the charger to the AC power supply.
LED INDICATOR
Green: Empty load or fully charged.
Red: Charging.
Off: Short circuit.
WARNING
Use special caution when working with Li-Ion/ Li-Polymer cells and packs, they are very sensitive to charging characteristics and may explode if mishandled.
Make sure user has enough knowledge on Li-Ion rechargeable batteries in charging, discharging and assembly before use.
Put the batteries in a fire-proof environment in charging.
Never leave batteries unattended when charging.
Do not put batteries on the car seat, wood surface or carpet when charging.
We are not responsible for any damage caused by misusing or mishandling, not for any damage caused by other Li-Ion batteries.
Do not make any changes to the charger, charger accessories or connectors, as this might cause an electrical shortage, fire or over-heating during charging.
Before purchasing a battery or charger please read our important warning and disclaimer here.