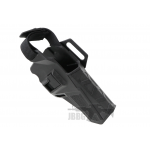 H6182B HFC PISTOL HOLSTER HG-171/173/182
CREATE ACCOUNT OR LOGIN TO SEE PRICING
Description
HFC PISTOL HOLSTER 6182B
This HFC pistol holster is designed to quickly and effectively draw the pistol during combat at maximum speed, whilst still remaining safe as it has a trigger lock that needs to be pressed to allow the pistol to be drawn from the holster. It is constructed from lightweight, yet durable, polymer and attaches to the belt with an easy belt clip system. The angle of the holster can be adjusted to be at any angle allowing you to hold the pistol to your optimal drawing position. The holster can also be removed from the belt system and attached to most Drop Leg Holster Platforms, giving you more options and more possibilities. This is the perfect holster for those who want a holster which allows for quick drawing, whilst at the same time keeping your Airsoft Pistol secure and safe.
FEATURES
Right-handed holster unit
Sturdy belt system
Push-button lock
Fast belt system
PISTOL COMPATIBILITY
This pistol holster may also be compatible with many other pistols.