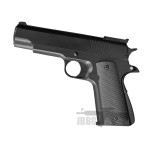 HG123 Gas Airsoft Pistol
CREATE ACCOUNT OR LOGIN TO SEE PRICING
1:1 Scale Replica of the Smith & Wesson Model 1911 used by U.S. Military for over 75 years. Fixed barrel system like true target guns. This is a non-blowback design for highly efficient performance with no energy wasted on slide movement. Gas non-blowback airsoft pistols are the next step up from spring powered airsoft pistols. Powered by green gas they offer a much stronger shot and accuracy. Gas non-blowback airsoft pistols are the best and affordable way to start your collection of your airsoft guns.
Description
HG123 HFC GAS AIRSOFT PISTOL
This outstanding HG123 gas airsoft pistol has many features not normally found on a pistol at this price. Fixed front and rear sights for accurate shooting and a smooth trigger action that makes it a pleasure to fire. Easy fill gas nozzle found under the grip, plus a self fill BB magazine. As this pistol has good FPS and is gas powered it is good for target shooting or skirmishing.
SPECIFICATIONS
FPS (ESTIMATED) – 260
POWER TYPE – GAS
ROUNDS – 15
CONSTRUCTION – ABS & METAL
RECOMMENDED AMMO –  0.20G
IN THE BOX
HG123 Gas Airsoft BB Pistol
15 Round Magazine