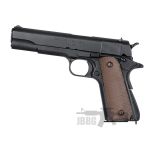 KING ARMS 1911-A1 CAL .45 GAS PISTOL
CREATE ACCOUNT OR LOGIN TO SEE PRICING
Description
KING ARMS 1911-A1 CAL .45 PISTOL
Info soon…
FEATURES
1. Frame:
– Metal constructed slide and lower frame provides rigid structure of the pistol.
– Precise CNC machined internal and surface. It makes a tight fitting of the upper and lower frame but slide move smoothly.
2. Barrel:
– Metal outer barrel with "MODEL 1911-A1 CAL .45" marking together.
3. Safety:
– Double mechanisms give a superb safety of use.
– The ambidextrous slide-lock locks up the slide and the trigger when not ready to fire.
– The functional metal beavertail grip safety enhance the safety from misfiring. Shooter have to grip the pistol properly and tightly when triggering. Otherwise the trigger will be locked-down.
4. Sights:
– The metal fixed front sight and rear sight helps shooter acquire the target quickly.
5. Grip:
– Non-slip patterned grip cover are replaceable. There are ton of selections from the market for styling the pistol easily.
6. Magazine:
– Metal casing magazine can store up to 25 rounds 6mm bullets.
– Compatible with most of brand (Tokyo Marui, KJW, APS, Army, etc.) standard 1911 magazines.
8. Parts:
– Adjustable hop up let users fine tuning their precise shooting range. User can replace difference hop up rubber from aftermarket parts at their preference.