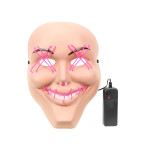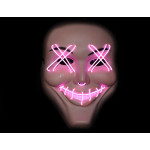 LED PURGE HAPPY MASK
CREATE ACCOUNT OR LOGIN TO SEE PRICING
This LED Mask was inspired by the Purge, LED Light-up mask that is not recommended for airsoft unless you use goggles under the mask to protect your eyes…
Description
LED PURGE HAPPY MASK
This mask is made from good quality plastic, it has a single black strap plus forehead foam padding.
The LEG cable that runs through the mask is almost indestructible and is powered buy 2 AA standerd batteries.
The power unit has a belt clip and a long cable plus a push button switch to select on/off and 2 speed flashing affects.
Please note: we do not recommend this mask for airsoft! However if used with goggles would make a great inpact your next CQB game.
SPECIFICATIONS
Harmless, no UV or adverse effects
Light uniform, not flicker so will not make eyes produce tension
No heat, the working temperature is lower than the fluorescent lamp