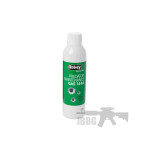 MAINTENANCE MINI
CREATE ACCOUNT OR LOGIN TO SEE PRICING
This product can only be delivered to a UK mainland address so if you are in Ireland, the Scottish Highlands or outside of the UK we cannot deliver this product to you.
Maintenance Gas, Bring Guns Back from the Dead.
Description
Abbey Predator Maintenance Gas 144a
All guns spend time in shipping and storage. This can lead to seals drying out and not giving a satisfactory gas tight seal. This causes reduced performance and, in extreme cases, the gun will not cycle at all. Older guns, especially when stored in warm modern houses, can suffer the same problems. Often you will be advised into expensive, intricate and time-consuming seal replacement. To obtain the best from your gun you will need to lubricate the internals of your gun. Stripping and maintaining an unfamiliar gun may not be your first choice. Luckily there is an answer. You can return your gun to maximum power without stripping and maintenance. Using Abbey Maintenance Gas 144a you can quickly and simply rejuvenate your gun.
Blended to give the same power as the manufacturer's original recommended gas. Maintenance Gas 144a's blend of carefully selected gases produces just the right power. Our unique UPL lubricant is designed to be stable in the gaseous state. It does not separate and sinks to the bottom of the can as some others do. Abbey Maintenance Gas 144a will not damage or break your gun. Just fill the magazine with Abbey Maintenance Gas 144a and rejuvenate your gun whilst still enjoying the skirmish. Regular use of Abbey Maintenance Gas 144a will keep your guns performing at maximum power and reliability. It will literally bring your gun back from the dead.
BENEFITS:
Blended to give the same power as the manufacturer's original recommended gas
Maintenance Gas 144a contains carefully selected gases which produce just the right power
Our unique UPL lubricant is designed to be stable in the gaseous state
Does not separate and sink to the bottom of the can like other brands
Does not cause damage to or break your gun
Simply, fill the magazine with Abbey Maintenance Gas 144a to rejuvenate your gun