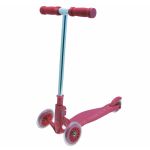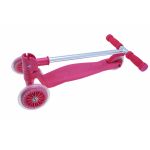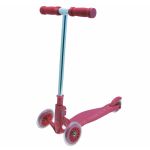 NA01049-003Y PINK PRO GLIDER 3 WHEEL SCOOTER
CREATE ACCOUNT OR LOGIN TO SEE PRICING
Description
Additional information
Description
 Pieces 4 Per Carton
Product Code:    NA01049-003Y
Description:
The Pro Glider Scooter is ideal to make those journey's out and about even more interesting.
With two wheels at the front of the scooter this increases stability and helps children develop balance.
Unique tilt action steering for ultimate tricks and rides with a strong deck for extra solidity.
Foldable handle bar system and neck enables this scooter to be easily stored and easily carried.
This lightweight scooter comes with robust, durable PVC wheels.
Features:
•    Flexible neck of scooter allows easy turning
•    East steering from right to left
•    Unique and elegant deisgn
•    Strong deck for a safe ride
•    Maximum recommended weight 20kg
•    Some Assemble Required
Includes:
•        Pro Glider Pink Scoote
•        Manual