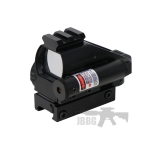 REFLEX 33MM RED/GREEN DOT GUN SIGHT WITH LASER
CREATE ACCOUNT OR LOGIN TO SEE PRICING
Description
REFLEX 33 DOT SIGHT WITH LASER
This Tactical Reflex Red/Green Dot 1×33 illuminated Holographic fixed power sight is suitable for rapid-firing or shooting moving targets besides normal shooting, it has been designed for use on rifles, handguns, and other airsoft guns with long eye relief.
Windage and elevation adjustable the fitted integral base mount that fits Picatinny or Weaver rails, the extra-bright wide field of view multi-reticle (4 patterns) or variable dot (4 different sizes) position setting switch • ʘ + ¤ allows users to quickly customize and acquire any fixed or moving objective target. Changing the reticle colour from red to green is easily achieved by moving the 360° rotating on/off side position rheostat switch.
The side-mounted red laser sight is factory fitted with a standard on/off power switch, the hands-free operation is optional via the use of the supplied remote pressure switch allowing momentary on/off and constant on/off operation.
A Picatinny style top rail provides a rock-solid platform for all your mounted tactical accessories like hunting torches and more.
FEATURES
Red laser sight
Picatinny accessories top rail
Holographic fixed power optic
Windage and elevation adjustable
Ideal for rifles, handguns, and firearms with a long eye relief
Four-position rear setting switch • ʘ + ¤ allows users to customize the reticle
On/off 360° rotating side position rheostat switch changes reticle color from red to green
1 x Included main battery: Replacement (Duracell DL2032) or (Sunrise/Radio Shack CR2032)
2 x Included laser batteries: Replacement (LR44) (A76) or (AG13)
PACK INCLUDES
Dot Sight HD103X
Remote Switch
Manual
Batteries
Allen Key
Cleaning Cloth