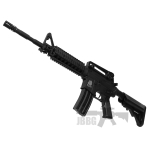 SR4 RIS BULLDOG PROLINE 6MM AEG AIRSOFT GUN
CREATE ACCOUNT OR LOGIN TO SEE PRICING
Description
BULLDOG PROLINE M4 RIS
This is the NEW Bulldog Proline R.I.S 6mm airsoft gun, is an outstanding new AEG unlike any other rifle on the market today. It has a lightweight polymer and ABS body similar to a sportline gun but it has full metal internals the same as most Gen3 rifles. This mix makes this airsoft guns a hybrid in today's world of airsoft, lightweight compared with most full metal Gen3 guns but can match them in durability and firepower due to its Gen3 internals.
SR4 RIS PROLINE AIRSOFT GUN
This new hybrid airsoft gun is from Bulldog Airsoft, it is something completely new and exclusive to Just BB Guns. It has the externals of a sportline gun but the internals of a Gen3 airsoft gun. You will not find this winning combination from any other brand of airsoft gun. So let's break it down – full-size polymer and ABS RIS M4 frame and external parts. SRC generation 3 metal gearbox with 8mm bearings, steel gear set, ultra-high took motor, aluminium spring guide and aluminium bearing piston head. This makes this gun built to last and you can feel the difference of the upgraded internals when you have it in your hands. The M4 RIS features a long 20mm weaver rail along the top to fit all major scopes and red dot sights or the supplied cut down rear sight. The front handguard system will also give you as much accessory space as you need from front drop-down grip to lasers and torches. If you are looking for an airsoft gun that is built to last without breaking the bank this is the one for you.
KEY FEATURES
Full size 1:1 scale RIS airsoft rifle
Sportline frame and external parts
Gen3 gearbox and internal parts
300 round hi-cap magazine
Tactical adjustable stock
Battery and charger not included
Size – 800 – 885 mm
SPECIFICATIONS
[table "350" not found /]