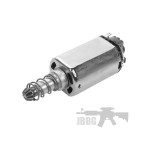 SRC Motor
CREATE ACCOUNT OR LOGIN TO SEE PRICING
The SRC factory replacement high-speed motor is affordable, yet high-quality…
Description
SRC M4/M16/M5/T3 Long Type High-Speed Motor
The SRC factory replacement high-speed motor is affordable, yet high-quality airsoft AEG motor that has been enhanced for high RPM output. This SRC High-Speed motor is perfect for good FPS higher rate of fire AEGs and puts less strain on the gearbox. This motor is compatible with most Version 2 gearbox AEGs. This includes the M4; M16; M5; and T3 AEGs.
Advanced design, an excellent value
Ready to use right out of the box
For use with metal gearbox AEGs only
Make sure your gearbox components like piston & gears are robust enough to handle the high-speed output.