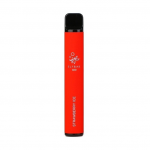 Strawberry Ice 2ml – 0mg Pack of 10
CREATE ACCOUNT OR LOGIN TO SEE PRICING
Description
What could be better than a user-friendly vape pen loaded with enticing flavour featuring salt nicotine?
If you are seeking a great introduction to vaping or a hassle-free vaping life, the Elf Bar 600 is certainly a great choice. This one is loaded with 2ml of delicious Elf Bar Strawberry Ice Cream e liquid which delivers fruitiness, creaminess and pleasing chill with every puff. Talking of puffs, the 550mAh battery powers up to 600 of them and this device is inhale activated for ease of use. There are no buttons or settings to deal with and you won't have to worry about replacing your coils. Simply vape until the battery or juice is exhausted and then dispose of the device.
The news gets better because the Strawberry Ice e liquid features salt nicotine for purer flavour, quicker relief of your cravings and smoother throat hits. The nicotine strength of 20mg is ideal for ex-smokers. We think that this compact vape pen is a great choice for life out and about. It takes all the complications of vaping out of the equation, leaving you to do nothing more than enjoy the flavour.
• 550mAh battery
• Powers 600 puffs
• 2ml of e liquid
• Fruit dessert flavour
• Salt nicotine
• Nicotine strength of 20mg or nicotine free
• Compact disposable device