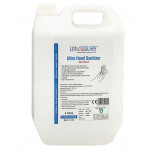 ULTRA ASSURE HAND SANITIZER 5LITRES
CREATE ACCOUNT OR LOGIN TO SEE PRICING
Description
Germs free hands,kills 99.99% of commonly occurring germs that might cause illness.
A safe,effective and convenient alternative to clean hands without soap and water.
Composition
100g solution contains: Ethyl Alcohol IP(Denatured) : 66.5% v/v ,
Isopropyl Alcohol IP : 3.5%  v/v,
Glycerin Gel Base QS
Directions 
For effective use take small amount of hand sanitizer in your dry hands and rub over palm,fingers,hands and nail grooves briskly,until dry.No need to wash hand with water.
Precautions
Flammable.Do not use on broken skin and avoid contact with eyes.In the event of contact rinse eyes thoroughly with water.Consult the doctor if irritation occurs or if ingested.Keep away from children.