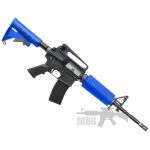 WE M4A1 GAS BLOWBACK AIRSOFT RIFLE
CREATE ACCOUNT OR LOGIN TO SEE PRICING
Description
WE M4A1 GBB RIFLE
This is the outstanding gas blowback M4A1 airsoft gun from WE. This outstanding replica is full metal with a genuine firing action. The M4A1 is an iconic gun that is one of the worldwide most recognisable rifles. This airsoft gun fires standard 6mm BBs and is powered by airsoft green gas.
FEATURES
370 FPS
50m Approx Range
Barrel Length – 110mm
30 Round Magazine Capacity
Fire Selector – Semi / Fully Automatic
Blowback System
Hop-Up – Adjustable
Powered By – Gas (Magazine)
Gas Compatibility – Green Gas
Weight – 3.7500
GAS RIFLE INFOMATION
Please note that gas rifles do not perform well in cold weather and even with the correct high-powered green gas this airsoft gun will not operate and perform as good well as in mild or hot weather conditions. It is important to keep both the gun and magazine from getting cold and do not use this gun in full auto during cold conditions. For more information regarding using a gas airsoft gun in cold conditions please see our blog.